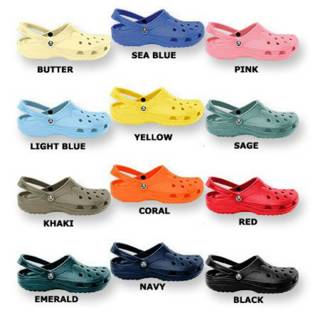 multi-colored Crocs

Whenever I tell people I'm from Boulder, the following questions are asked immediately: Who killed Jon Benet? (like I, or the Boulder Police Department, knows the answer to this) Was Mork and Mindy's house really located in Boulder? (yes, on Pine Street. We used to take tourists by there) Do you ski? (duh)
What no one asks is why people in Boulder insist on wearing such horrible footwear.
A common phenomenon here is the destruction of a perfectly good outfit by the selection of absolutely horrid shoes. For example, a woman will be wearing a black skirt, black tights, cute purple or pink jacket and then these hideous chunky black shoes from 1970. Birkenstocks are still worn with everything, Tevas are the shoe of choice for all outfits from workaday wear to Sunday best and heels almost never happen. No self-respecting Manolo Blahnik or Jimmy Choo would be caught dead here.
Other trends have made their way to Boulder. Many a woman can be seen sitting in a bar, sipping her Cosmopolitan or Mojito and sporting her low-rise flare jeans with her thong showing and half her ass hanging out. This isn't really a good thing, but at least it shows some fashion consciousness. Those off-the-shoulder Britney Spears shirts are still popular as are the reborn ponchos from the 70s. (There has been much debate among my friends and me as to whether these ponchos are cute. I say yes, although with my bust line, I'm smart enough to steer clear because I would look like I was wearing a tent. But I have other friends who are completely opposed. Any thoughts on the poncho trend out there?)
Somehow all these trends and more are supported in ultra-liberal Boulder, but the designer shoe, the pointy toe, the stiletto heel – absolutely not. Nowhere to be found.
The latest shoe craze in Boulder can be seen above. Known as the Croc, these shoes go for about $30 a pair and are worn with all outfits in all places. They are sort of the "emperor wears no clothes" of shoes. Meaning that no one has told the hordes of people sporting Crocs that they are the most hideous piece of attire to greet footwear since the Birkenstock arrived. (Don't get me wrong, I wore Birks too, but I eventually had to admit that big, suede-ish, foot-flappy shoes aren't the most attractive or feminine. Still, they were great when I was seeing Dead shows and wearing jean shorts with long underwear, another look happily buried in the early 90s.)
Here's a blurb about Crocs from the summithut.com web site:
"The popular Beach ™ model was the first shoe introduced under the Crocs brand Footwear label and has been a major part of the footwear industry's evolution towards comfort. It's made from a patented closed-cell resin, not hot and uncomfortable plastic or rubber. It features an orthotic foot bed, multiple ventilation ports, a slip-resistant sole, and weighs only ounces! Stand on your feet all day without pain! The functionality and price make it a great choice for people who love comfortable shoes. They come in six sizes and twelve colors that make them a fun fashion statement for young and old alike, with or without socks. You'll need a couple of pairs to match every outfit! Try a pair in any color and we bet you'll be hooked!"
OK, let me interpret some of the key phrases there: "People who love comfortable shoes" means those who don't mind that they are the ugliest things ever to enter your closet; and "you'll need a couple of pairs to match every outfit" or really just one pair that doesn't match any outfit because these shoes do not match anything that should be worn by a reasonable human being.
You know, what's going to happen now is there is going to be a blog-generated run on these stupid shoes and soon the entire country will be wearing Crocs. Women in Manhattan will trade in their Choos for Crocs. Chic bars will be filled with women sporting sea green rubber clogs. Visiting French diplomats will take home red and yellow mini-versions for their kids, and that's who should really be wearing these shows, the French. They would look great paired with pink and green satin jackets with non-sensical English phrases printed all over them.
While the shoes are ineluctably bad, don't even get me started on the hairstyles here in Boulder … let's just say the longer and rattier the dreadlocks the better for much of the population. I am certain entire small-animal populations are residing in people's hair. And if the rats and squirrels lose their way, there's plenty of room leftover for them in the Crocs.