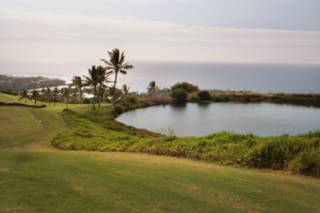 Mountain course view

Important shot -- Mom and I both cleared this pond and hit to the green. But we thought Mom's ball hit the lava and bounced into the water. We didn't know it was on the green until we got there. That was a big golf moment.

Wednesday, November 24, 2004
I feel like I am just finally settling in, but I also feel like things are coming to an end. I have no happy feelings surrounding going home. Not that I don't love home, because I do, but home is always there and now I'm in Hawaii! I so wish I could stay for an unlimited time, just freely enjoying myself, and then come back when I feel like it. Unfortunately, vacation doesn't work this way.
This morning, we actually slept late and went to the little Mauna Loa pool before playing golf that afternoon.
On Sunday, we played the Kona Country Club's Ocean Course. Today, we played the Mountain Course. I liked the Ocean Course better because it was flatter and more reasonable. The Mountain Course had all sorts of crazy things going on, hills and valleys and wacky carries. Keeping score was pointless. But the views were incredible. That's probably the main thing in golf -- enjoying the outdoors, the walk and the views. If you get too uptight about your swing or your game, all the joy goes out of it unless you are really super good.
After dinner out the last two nights, we ate in tonight. Lots of food to eat so that we don't have to leave everything to the maids.
Overall, a pretty mellow day, although they are all also action-packed.
I'm going diving tomorrow and I am actually a little apprehensive because getting under all that water has always seemed scary to me. And the woman at the snorkel boat didn't help.